激光共聚焦扫描显微镜对于Tnfsf15调控淋巴内皮细胞行为的相关测试结果发表于《Journal of Pathology》
---
2015年8月6日,李鲁远教授课题组在《Journal of Pathology》发表题为《Tumour necrosis factor superfamily member 15 (Tnfsf15) facilitates lymphangiogenesis via up-regulation of Vegfr3 gene expression in lymphatic endothelial cells》的论文(J Pathol 2015,237: 307-318),该论文报道了肿瘤坏死因子超家族成员Tnfsf15能够通过上调淋巴内皮细胞中VEGFR3基因表达,促进淋巴管生成,维护循环系统稳态,有望作为淋巴水肿的潜在治疗手段。文章的第一作者为秦婷婷。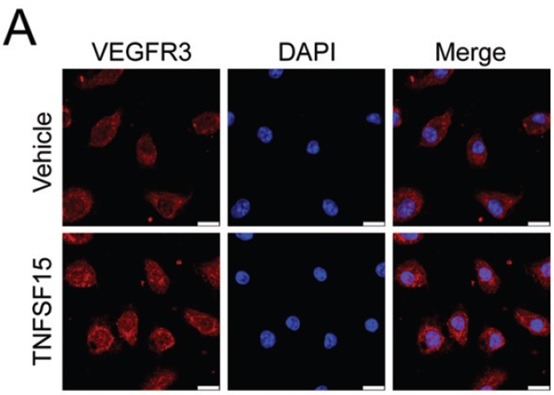 Fig.1 Fluorescence confocal microscopy images of LECs treated with vehicle or recombinant Tnfsf15 (200 ng/ml) for 24 h. Red, Vegfr3; blue, DNA. Scale bar=10 μm.
Fig.2 Fluorescence confocal microscopy images showing LYVE1 levels in frozen sections of lymphangioma tissues from Tnfsf15 transgenic mice and littermates by immunostaining. L=liver; T=tumour. The dotted line indicates the border between liver and tumour tissues. Scale bar=100 μm.

Fig.3 Tnfsf15 stimulates embryonic lymphangiogenesis in mice. (A) Typical fluorescence confocal microscopy images of lymphangiogenesis in whole mounted skin of embryos from IgG- or 4-3H-treated (1.5 mg/kg) pregnant Tnfsf15 transgenic mice. LYVE1 immunostaining. Red, lymphatic vessels. The dashed line indicates the umbilicus.
《Journal of Pathology》最新影响因子7.448
本文链接:http://onlinelibrary.wiley.com/doi/10.1002/path.4577/full